The BCHA is a continuing 15 year old place-based oral history and technology project of the students of Rocky Gap High School in Rocky Gap, Virginia. Almost 600 interviews have been conducted over the years and some of these are available in part to read on this website. Our goal is to preserve the memories of those who made a life in these mountains that we hold so dear. Many were born in a log cabin and still remember the stories of the hills and hollers handed down from generation to generation. We welcome suggestions, stories, memories, and photos. Please contact us .
---
What is it? Who is it? Can You Help Us?
Mountain Home Project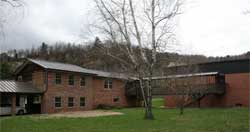 The Mountain Home Center is a celebration of rural life in Bland County, while at the same time it functions as a center for school and community technology learning and related activities. The oral history and technology activities of the Bland County History Archives are housed in the Mountain Home. We will soon have much more information available. After the Easter break we will have many photos and a movie or two about all this. We are working on multiple projects that will be available on the website in the next several weeks so stayed tuned.

---

You Do Not Have to Believe All I Say is what Andrew Marion Bruce has to say about growing up in Bland County at the turn of the last century. Andrew has a lot to say about a lot of subjects and a real treat is in store for those with an interest in Bland County and Appalachia. Via the internet Larry Smith of Colorado shares his lovingly transcribed interview with his great Uncle. Enjoy. Also please note that the students of Rocky Gap have been updating the site, fixing broken links, and adding new content. Check the Latest Additions for well, the latest additions. Great things are happening for the BCHA so check back often and stayed tuned for the latest developments.
---